Firstly, I for one love and remember fondly Guess back in the day.  What child of the 80′s doesn't remember Claudia Schiffer's iconic images by Ellen von Unwerth for Guess?  For me as a young starting out fashion photographer von Unwerth was my idol (still is)  and I probably recreated several of her "Guess" looks for numerous model's comps back in the early 90s.  Well, they both return for the new campaign celebrating Guess' 30th Anniversary!!!
It's hard to believe, but Guess turns 30 this year, and to celebrate, the brand is bringing back a true original: 1989 Guess girl Claudia Schiffer.  "She was a turning point of Guess … Guess was a turning point of a life for Claudia," CEO and creative director Paul Marciano tells WWD. One of the first iconic photos of her, wearing nothing but a black lace bustier, "made her career in my view, and that made Guess a different company. Everybody talked about the Guess girl."
For the new campaign, Schiffer was shot in Sorrento, Italy, under the creative direction of Marciano — who was on set for her first-ever Guess shoot — and by Ellen Von Unwerth, the photographer who took the original, iconic portraits (below).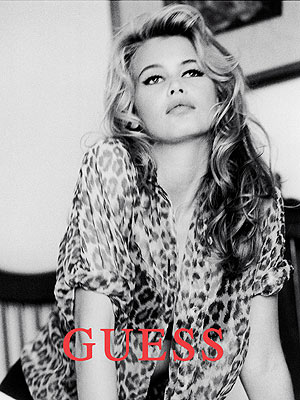 Courtesy Guess
"Guess will always have a soft spot in my heart, and I'm excited that 23 years later we can still work together so successfully," Schiffer, who starred in six campaigns from 1989-1991, tells WWD. "Shooting the Guess 30th anniversary campaign was like going back in time. It brought back so many great memories."
The clothes featured in Schiffer's new campaign (above) — inspired by her and a slew of former Guess girls — will be available at the brand's stores and Bloomingdale's nationwide on April 19. Look for a lace bustier (of course!) plus jeans, wide-neck T-shirts, a sheer leopard-print blouse, a sleeveless black-and-white gingham top and more.
One questions till stands in my mind…if it's been 23 years since Schiffer and von Unwerth shot the first campaign…Do these women ever age?
I think not!
BISOUS!!!